Why is Sales Enablement? AND a few questions for YOU!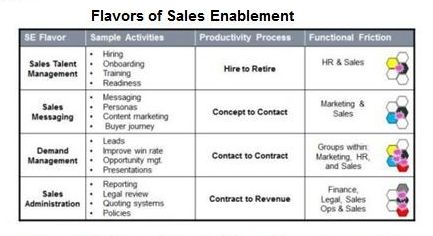 A few weeks ago I invited you to travel back in time with me, to the founding of the Sales Enablement Society itself, in search of answers.
Beginning with SES Founding Position ONE: The Flavors of Enablement:
1️⃣. Sales Talent Management (HR / L&D)
🔵 Hiring
🔵 Onboarding
🔵 Training
🔵 Sales Readiness
2️⃣. Sales Messaging (Marketing)
🔴 Messaging
🔴 Personas
🔴 Content
🔴 Buyer / customer journey
🔴 Campaigns / social media
🔴 Go-to-market approach
3️⃣. Demand / Pipeline Management (Marketing, Sales Support, Sales Effectiveness, Finance)
🟣 Leads
🟣 Strategic opportunity management
🟣 Market planning
4️⃣. Sales Administration / Organizational (Sales Ops, Rev Ops, Finance, Legal)
⚫️ Systems
⚫️ Compliance / policies / procedures
⚫️ Business processes
⚫️ Reporting / Analytics
And I posed a series of related questions:
❓ Do the original four "flavors" or Domains of Sales Enablement still hold true…?
❓ Do they resonate with you?
❓ Did our Fore-founders miss a few?
❓ Maybe they need edits too?
A few additional "flavors" that have already been suggested:
💡 Partner Enablement
💡 Sales Management Enablement
💡 Sales Tools Enablement
I'm fiercely curious to hear even more feedback from the Enablement community. PLEASE step loudly out into the light and join in the continued conversation.
Let's Elevate Enablement Together!
Erich
Originally posted on LinkedIN 8.14.23